Labor Day is one week from today, and we are already making our plans. Don't forget Boetje's while making your plans too!  Burgers, dogs, brats, chicken, pork chops… we're the perfect addition to all of it.
And remember, when you conjure up an amazing recipe that uses Boetje's original Dutch-style stone ground mustard or our Bourbon Barrel Aged mustard, snap a picture and send it to us along with the recipe. We love to share those tasty treats both here and on our Facebook.  We'd especially like to include some new recipes using the Bourbon Barrel Aged flavor in the new recipe collection we're assembling.
Send us your taste creations and pictures on Facebook, or post them on your own page and tag us there.  Happy almost Labor Day, everyone!
It has been such an exciting year for us here at Boetje's!  Most recently we have been honored and humbled to have been chosen as the city of Rock Island's 2016 Citizen of the Year in the business category.  We have been part of this incredible Quad City Area since Boetje's beginnings in 1889, and we know that the community's support and enthusiasm is an integral part of our story.
We are looking forward to the reception at City Hall on Monday, August 22nd.  Even more, we are looking forward to the future as we continue to share the best mustard we know of, made in the best community we know of, with the world!
Thanks to everyone who came out to the National Mustard Day celebration this weekend!  Here are a few of our favorite pictures from the day.
Tomorrow, August 6th, is National Mustard Day. No, we didn't make this up. It's a real thing!
This morning we are headed north to celebrate along with the Mustard Museum in Middleton, Wisconsin. This is a big event that they host each year, and you can find more details on their website.
If you will be swinging by the event, be sure to look for the Boetje's Mustard display and say hi to us!
Earlier this month Cheri Bustos, the U.S. Representative for the 17th District of Illinois, took a few moments to recognize Boetje's Mustard and our recent Grand Champion win in the World Wide Mustard Competition.
Here is a transcript of her statement.
"Mr. Speaker, I rise today to recognize Boetje's Stone Ground Mustard, which recently was named Grand Champion in the 2016 World-Wide Mustard Competition.
In the late 19th century, Fred Boetje began making stoneground Dutch mustard in his garage in Rock Island, Illinois. To this day, Boetje's is still a Quad Cities-based company and is gaining international recognition for their excellent and unique product. In fact, Boetje's is the first grainy mustard to win the Grand Champion award in the World-Wide Mustard Competition's history. Previously, in 2008, it took first prize in the "Best Coarse Grained" category at the World-Wide Mustard Competition, and in 2002, their mustard was named the "Best Illinois Food Product" by Illinois Magazine.
Mr. Speaker, I want to again recognize Boetje's Mustard's victory in being named Grand Champion at the 2016 World-Wide Mustard Festival, and I wish them even more success in the future."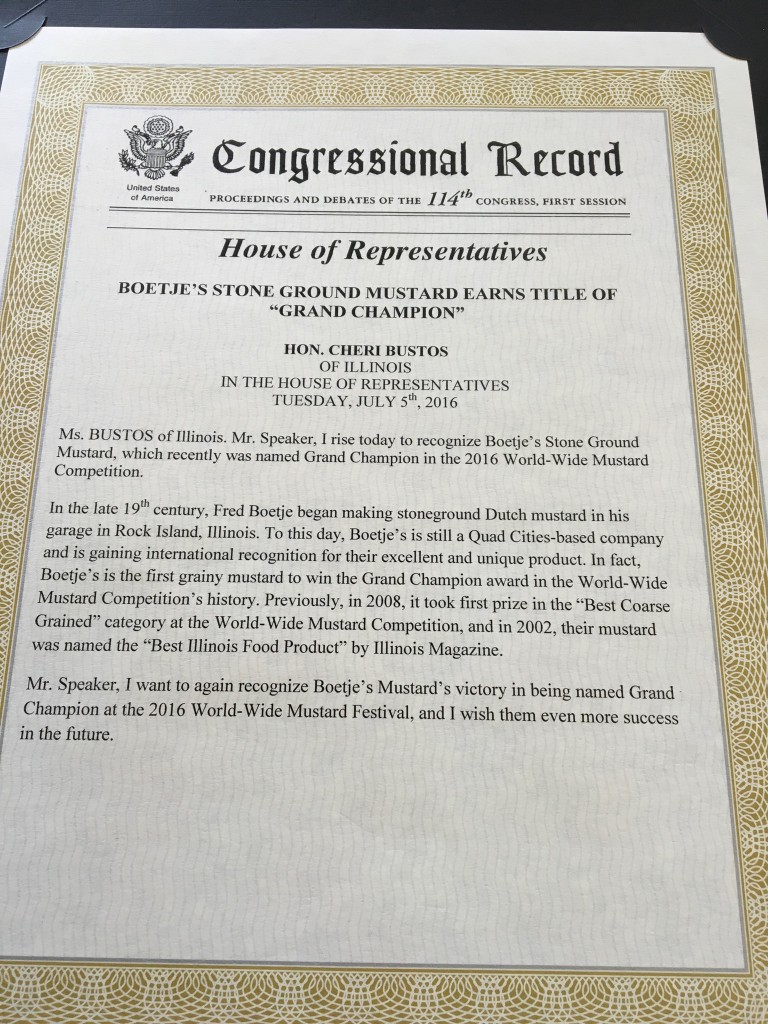 What is your favorite way to use your favorite mustard when you are grilling out?  Do you kick up your barbecue sauce with the old world flavor?  Do you slather Boetje's Bourbon Barrel Aged flavor on your chops or steaks? Is there a family recipe for grilled asparagus that the world should know about?
Tell us how you use Boetje's and we just might post your recipe here in our blog.  You can post on our Facebook or even post on your own and tag us in it so we find it.  And bonus points if you get a fantastic picture of your recipe in use that we can include in the posts!
So get grilling and send us your best Boetje's ideas!

Monday night we had the privilege of attending the Rock Island City Council meeting where the Mayor of Rock Island, Mr. Dennis Pauley, presented us with the official proclamation of Wednesday, May 25th, as Boetje's Mustard Day!  We are proud to be part of the Quad City community and honored with the support that we have been given over the years.  Read on for the official (and officially fun!) proclamation!
WHEREAS,  Boetje's Mustard has been produced in Rock Island since 1889 and has been a Quad City favorite since that year; and

WHEREAS,  the World now recognizes Boetje's Dutch Stone Ground Mustard as the Grand Champion of all Mustards in the World as selected at the 2016 Worldwide Mustard Competition; and

WHEREAS,  this is the first time in the 22 year history of the Competition that a Whole Grain Mustard has earned the title of Grand Champion; and

WHEREAS,  we're very proud to call Boetje's our very own but willing to share it with the World,

NOW, THEREFORE, I, Dennis E Pauley, Mayor of the City of Rock Island, proclaim May 25, 2016 as

                        BOETJE'S MUSTARD DAY

and I urge all residents to join me in recognizing and participating in this special observance by topping your favorite dish with Boetje's Mustard on this day.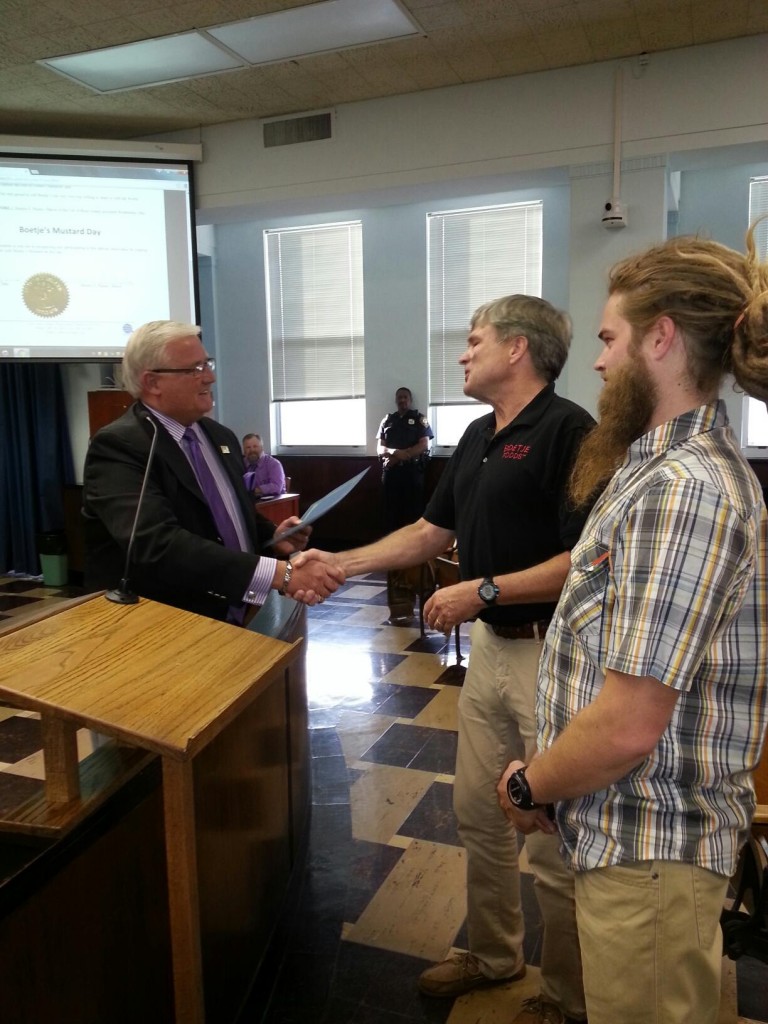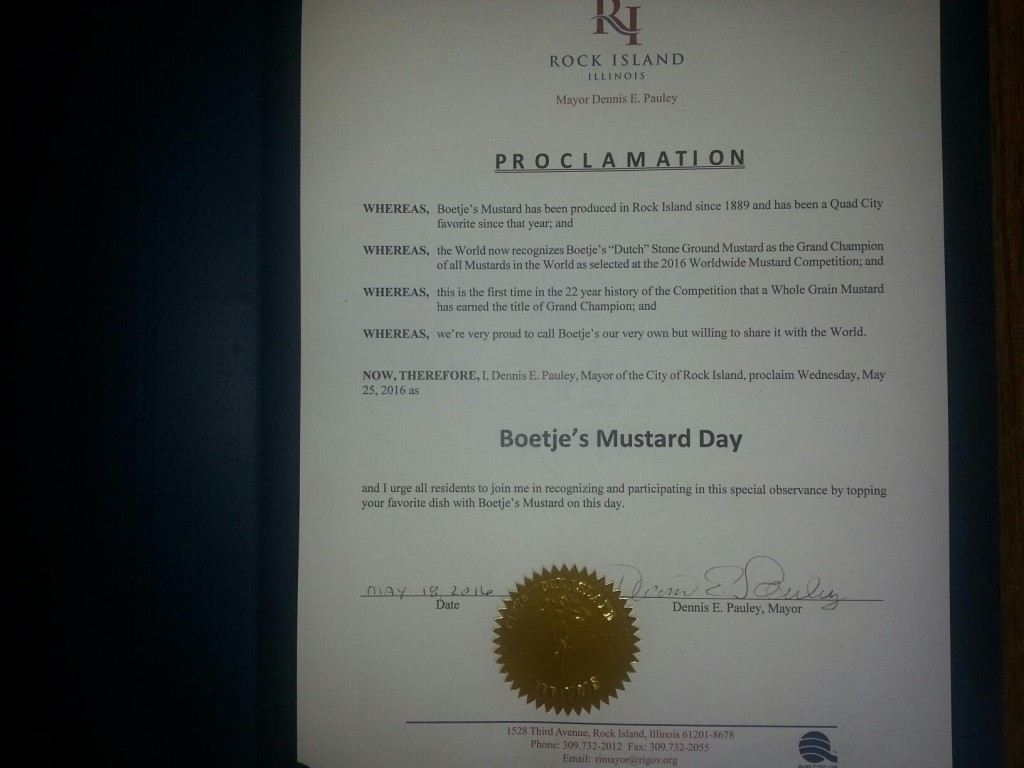 Low in carbs, High in flavor!
Our Facebook friend Molly from an earlier recipe post has done it again!  This time she came up with a delicious salad that is a turkey sandwich in a bowl.
Molly's words:  "Ok low carb friends, Turkey Sandwich Salad is my new obsession. Spring mix, deli turkey, shredded cheese, and mayo/Boetje's mustard dressing. I'm in heaven."
Send us your awesome recipes and photographs of them and we just might include them here!
#boetjesrecipes
Our Facebook friend Molly posted one of her favorite Boetje's recipes and agreed to let us share it here.  It's a super simple pita sandwich that looks as great as it tastes, and is gloriously healthy to boot!
Molly starts with a pita base, (her favorite is Joseph's pita,) and adds deli turkey and spring mix greens.  She mixes together Boetje's original stone ground mustard and a fresh avocado, and uses it to dip or spread onto the pita. Delicious and healthy!
Thank you for sharing, Molly!
#boetjesrecipes